Mother asked not to breastfeed baby in restaurant | News
A mother and her daughter, having lunch in her favorite restaurant. What could go wrong?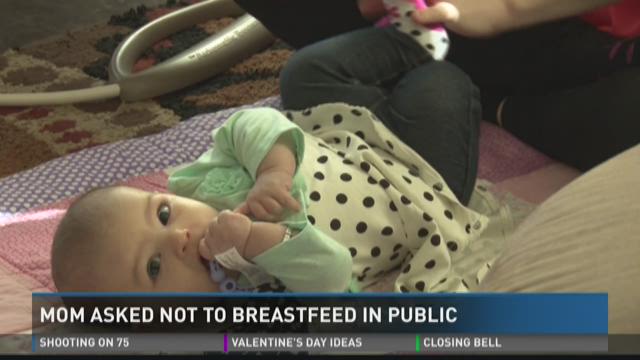 "You can have a baby being nursed or you can have a screaming baby. It's up to you which one you prefer," said new mom, Courtney Canela.
Mom to four month-old baby Mia, Courtney Canela, left the British Pantry on Wednesday upset after she was asked not to breastfeed her baby in the restaurant. 
Jan Francis, the owner, replays what happened.
"I asked her, I said, 'Courtney, you know, I prefer you not to, you know, feed the baby," Francis said. "Would you like some privacy? Why don't you go to the bathroom?' Well, she didn't like that."
Canela says she covered herself with a blanket, and says she's modest when breastfeeding anyway, but that she has the right to feed her baby wherever she wants.
"I just wouldn't feed her in a bathroom anyway, and we shouldn't have to," Canela said.
Canela says her daughter Mia won't take a bottle, so she has to breastfeed anytime Mia is hungry, and now she can't do that in her favorite restaurant that reminds her of home.
But Francis says she hopes Canela returns as a customer.
"This is probably the only place that she can get the stuff that she likes, so yes, I have no problem with Courtney," Francis said. "It was just a situation that happened and I just voiced my opinion. I didn't expect it to go blown out of proportion."
Francis says she doesn't have a problem with women that breastfeed.  
"I agree with breastfeeding wholeheartedly, but I think there's a time and a place for it," said Francis.
Canela said, "A lot of moms feel like they can't feed their babies when they're out and about. And it's sad because I think it's perfectly acceptable and society kind of needs to open up to a newer generation where it's gonna happen. There's going to be women doing it."