Local student competes for military youth title | News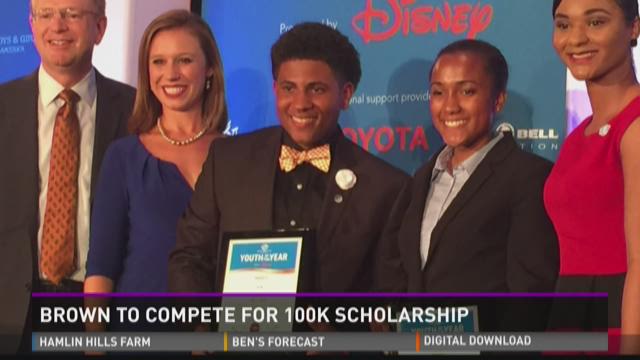 A Houston County high school student could start college with nearly $150,000 in scholarship money.
Chase Brown, a senior at Veterans High, already earned $48,000, as the Boys and Girls Clubs of America's state and regional Military Youth of the Year. He competes for a chance at an additional $100,000 and the national military youth title next week in Washington D.C.
Brown joined the Robins Air Force Base chapter of the Boys and Girls Clubs as a freshman. His stepfather, who is in the Air Force, encouraged him to become a member. Brown said he was reluctant at first.
"I went to the soup kitchen downtown," Brown said. I experienced something I never experienced in my life. I was like, 'Wow'. Other teens should see that."
Then, he was hooked.
The coordinator for the club, Marvin Hawkins, recognized a leader in Brown, and by his junior year, spotted his potential for excelling in the club's Military Youth program.
"He just has a certain charisma about himself," Hawkins said. "He's a very respectful young man, well mannered, and he's very serious about this academics and his life."
Through time-consuming interviews, tests and essays, Brown won the local competition. Then, he defeated opponents statewide, winning an $8,000 scholarship prize.
Brown said, "I couldn't believe it, because when I first started I was like, I don't see myself doing this."
He surprised himself again, beating out the competition from all the Southeastern states. He won $40,000 in scholarship dollars for that.
"(A) $48,000 scholarship under my belt. It's all worth it," he said.
Next week, he gets his shot to earn more in Washington D.C., seeking the title of National Military Youth of Year. 
Hawkins, who has taken a student to the competition before, said, "Get ready. It's no joke. The best are coming."
Hawkins will travel with Brown, coaching him in how to impress a panel of judges with his poise, speaking skills and ability to share his message, as the teen ambassador for the Boys and Girls Clubs of America.
"There is so much out there that we as teens don't take advantage of," he said. "There's people out there that care about you and want to see you have a successful future."
If Brown wins the National Military Youth Award next week, he faces one more round of competition before he can claim the $100,000 scholarship. He has to compete against the Teen of the Year from a non-military background.
The teen that wins that round, gets the big scholarship and a trip to the White House to meet President Barack Obama.